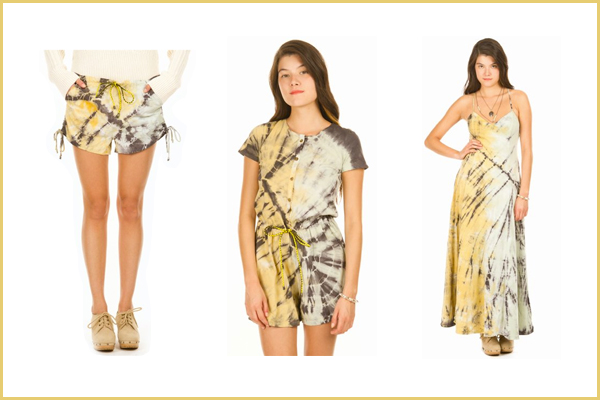 When it comes to unfussy but feminine, downtown dressing, Sophomore is the answer. Founded by New York City It-girl and sometime DJ, Chrissie Miller, her pieces are designed, with the help of Madeleine von Froomer, with her own easy sensibility in mind. It started in 2003 with a simple T-shirt (Jessica Stam calls their tees the most comfortable she's ever owned), and the line has not strayed far since. Think sportswear basics with a creatively youthful twist.
This season, tie-dye announces fun in the sun, setting the tone for pieces perfect for luxurious days when you have little on your schedule beside hanging with friends. Slip on the cotton jersey shorts ($135) or innocent romper ($185) on over your bathing suit – the neon drawstrings make these pieces boardwalk-perfect. Or toss on the spaghetti-strapped maxi dress ($225), made with a weighty cotton so it a moves with a sensuous flow, for a casual movie date. It says you're low-maintenance and sporty, but there's no doubt you enjoy being a girl.
Sophomore's pieces are Frugal Snob-approved, so no worries if they get roughed up or don't make it past Labor Day.