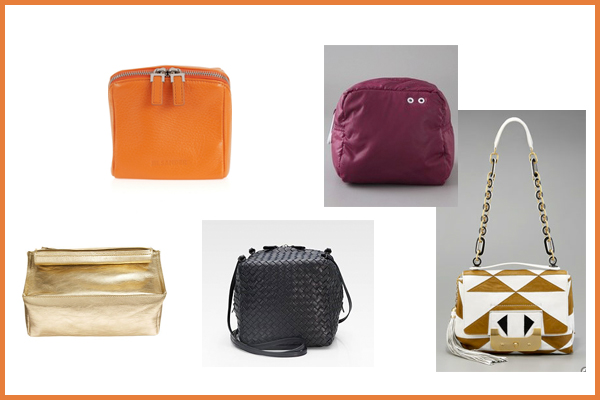 It seems like every movie hitting theaters is in 3-D – it's all about maximum impact. So why shouldn't our bags follow suit? All of our bags have some degree of volume (although some envelope clutches are more slender than others and some are even pancake-flat), but I'm talking about bags that are full-on boxes – 4-D! In perfect-square shapes or full rectangles, they definitely make an in-depth impression. The most successful cubes are tightly voluminous, angular, and petite. Here's my pick of the hippest squares
1) Givenchy Metallic "Pandora" Clutch: A metallic golden box speaks of richness and mystery. A tight handle means you can securely wrap your hand around this shimmering rectangle. At Barneys New York for $1,040.
2) Jil Sander Square Textured-Leather Cosmetics Case: While it would be hard to keep your fingers around this truly square makeup case, this is an uplifting pop of color to peek out of your big, neutral tote. An asymmetrical zipper with double pulls means every square inch is utilized. On Net-a-Porter
for $395.
3) Bottega Veneta Small Woven Leather Messenger Bag: This slouchy cube comes on a long crossbody strap for maximum efficiency. And doesn't intrecciato weave look brand new in this quirky shape? At Saks Fifth Avenue
for $1,780.
4) See by Chloé Joyrider Pouch: Utilitarian nylon feels fresh and sporty when it's squared off, rather than a traditional pouch shape. Perfect for tossing in your beach bag for long days out and about. On ShopBop
for $52.50 (from $70).
5) Diane von Furstenberg "Harper" Cube Day Bag: When you've got this much going on, the unique shape fades into the background. A geometric print, multi-tonal leather, serious hardware, even a tassel – and somehow, together it all works. At Bergdorf Goodman for $675.