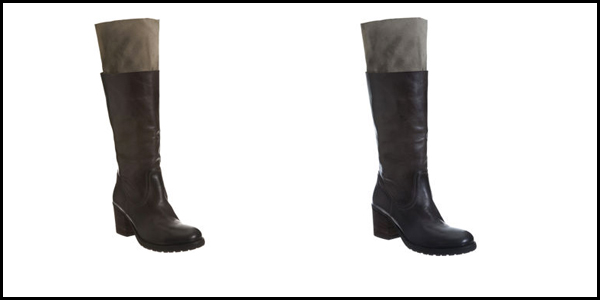 Knee-high leather boots with a curved toe. Lug sole. Tonal gray suede underlayer. Slightly chunky heel to give you just enough height. Made in Italy. And sold at Barneys! You're eyes are not deceiving you. There are, indeed, two different boots here – and for two very different prices! But who could tell? Even the snobbiest of snobs might have a hard time here. If these boots were people, they would be twins who look exactly alike but insist they're fraternal.
Snobs, take close inspection – after you do a double take or two – and harness all your designer-discerning capabilities. Which cozy winter boot costs a pretty penny and which ones are the steal at nearly half the price?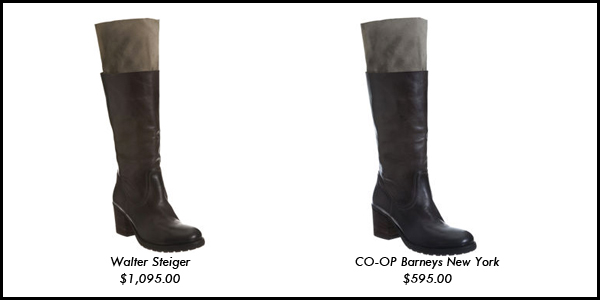 A) Somebody has inherently expensive taste! These comfy everyday boots cost over a cool grand. Designed by the long-standing house of Walter Steiger (founded in 1932) means you'd be wearing the covetable original – even if nobody knows but you. Walter Steiger Back Zip Kneeboot. At Barneys New York for $1,095.
B) Barneys New York designers must be in cahoots with their buyers because this is a total copycat shoe. Perhaps the Frugal Snob wins here – what's the point in paying double when they look pretty much exactly the same? This is a great opportunity to smarten up and catch a bargain. Co-Op Barneys New York Layered Knee Boot At Barneys New York for $595.