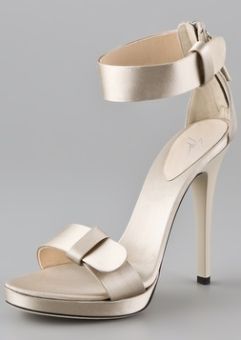 Simply gorgeous. Polished and perfect. Dainty and ladylike. Giuseppe Zanotti champagne sandals, a pair that can glide miraculously from bridal wear to normal wear at Shoe Snob.
Paris Couture Week Roundup Part III: Azzedine Alaïa, Julien Fournie, Maxime Simoens, and More at FabSugar.
Leave it to the French pros to take colorful mascara and what could veer into tackiness and make it divine, like this Le Métier de Beauté's Anamorphic Lash Mascara at Beauty Snob!
KRISTOPHER DUKES is enjoying Soho House London wallpaper by Jonathan Yeo.
Hot enough out there? StyleBakery is keeping cool with chic and easy one-piece outfits.
Oscar de la Renta's 24-karat gold-plated cabochon ring, at Jewel Snob, looks like something you'd find in a museum. It has an ancient and very official look to it!
Calling stylish moms and pregnant celebs alike! On the off chance you didn't already know, Isabella Oliver at Tot Snob is the maternity wear of choice.
Second City Style tried them all, so you don't have to. Find out What's New In The World of Self-Tanners..
Elie Saab Fall 2011 Couture Collection: Sheer Fantasy, Charmed Reality at Couture Snob!
Shopping and Info loves the fuzzy eco friendly Mongolia Prada garden tote for summer parties.