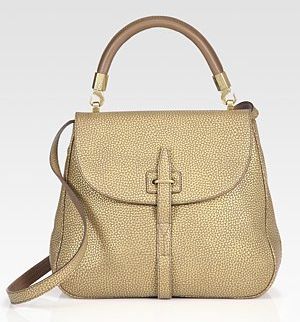 Yves Saint Laurent has just proven that "ladylike" and "cute" are not mutually exclusive! I love the sophisticated yet jaunty shape of the "Opyum" bag. As always, I'm not wild about the shoulder strap option, but the thick top handle, complete with appealing hardware, more than makes up for it. Not only does it give the bag a strong retro feel, the handle adds balance so it's not too dainty. With an interior offering two full-sized compartments, as well as a cell phone pocket, it has your organization covered.
A pert tab closure stretching up from the bottom acts as the focal point (notice the discreetly stiched "Y"). Or maybe the grainy pebble leather steals the spotlight. It might be a tad too coarse for me, but enhanced texture is essential on such an otherwise simple bag. It almost looks like a play on stingray skin or oversized caviar…or gravel. But the gold tone makes it glisten, so just relish the texture. At Saks Fifth Avenue
for $2,295.
Pair with: Have some chocolate with your pebbly golden foil. Michael Kors' stainless steel watches, in the new tone of "chocolate" bring some soft masculinity to the table. Michael Kors Stainless Steel Chronograph Watches, $250.