I can not recall ever owning a backpack, I used messenger style Hello Kitty book bags until I was allowed to carry a purse in the 6th grade.  I remember walking through the halls in the 6th grade with my (heavy) books in hands, proudly swinging my bag on my shoulder even though my arms felt like they were gonna fall off from the 10 pounds of books.  Mind you, those bags were only Ocean Pacific nylon bags worn with checkered Vans (we weren't as sophisticated 6th graders today!) but I loved them!  By high school I was given my first designer bag (Gucci, if you must know, with a matching wallet – so '80s!) and the rest, as they say, is history.
This morning, Ellen Lange tweeted me to give back-to-school bag suggestions for her teenage girls ($100 or less). That is quite the challenge as many of you know, but I managed to find a few that not only fit the budget but also the books! See below for my picks: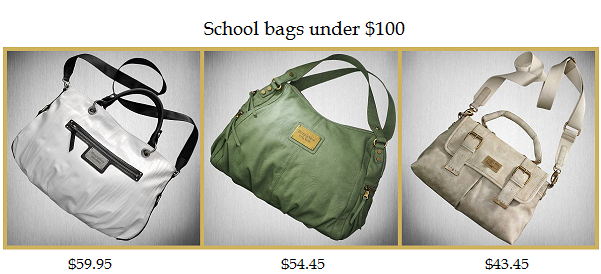 Under $100:
Simply Vera Vera Wang Yves Crinkled Pleated Tote: I love this dark denim pleated tote! Perfect with jeans and there's the cute pleating detail. Plus, the option of shoulder/crossbody if you're petite and strap or handle for Friday night football games. Measurements of 11 1/4″H x 18″W mean it will fit your notebooks plus books. But best part is the divided interior to keep your math papers organized! On sale at Kohl's for $59.95 (from $109).
Simply Vera Vera Wang Mohawk Satchel: This bag is huge, but sometimes a girl has to bring a change of clothes for after cheerleading practice! Olive is a good color for high schoolers –very neutral and goes with most highlighter pens in case of stains. On sale at Kohl's for $54.45 (from $99).
Simply Vera Vera Wang Schooldaze Cross-Body Handbag: This bag is called the "Schooldaze," so it's pretty obvious who Vera had in mind when she designed it. Right at 8×12, notebook papers and folders should fit snugly. On sale at Kohl's for $43.45 (from $79).
Now should you not have a budget and a large allowance from mom and dad, may I suggest the following? Enjoy and have a great school year!
Over $100:
Marc by Marc Jacobs Classic Q Backpack. This is such a great school bag!  It is one backpack I wouldn't have minded carrying in school.  When you're not lugging books, you can use the top handle for that nonchalant look.  On ShopBop
for $458.
Sonia Rykiel Ligne Penelope Messenger Bag.  Messengers are most convenient in my opinion and the nylon will be easy to clean.  On ShopBop
for $370.
DKNY Leather Biker-Style Shopper.  This is very fancy, probably best for college snobs but it fits a MacBook so in my book, it's a school bag.  On Net-a-Porter
for $425.