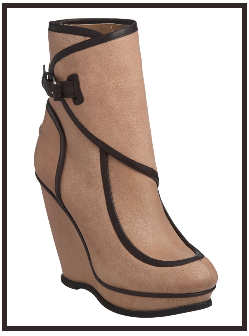 I am loving this interesting take on the ankle boot. This Balenciaga number is unique, sexy and certainly not your run-of-the-mill option for fall footwear. The entire boot is covered with soft leather and outlined in black piping which makes for a chic and eye-catching piece. I wouldn't strap these on for everyday wear so to not wear out the "wow" factor, but you could certainly get away with wearing these to work, out on a Saturday, or on a day date to go look at the fall foliage as the time is approaching… I feel like just yesterday I was giving my favorite picks for summer sandals… tear.
Wear these to work with a Zero + Maria Cornejo dress
to look polished, yet trendy, then throw on some black leggings and a MINKPINK striped blouse
and head out for an after work cocktail (s).
These are soft enough to be work in late summer/fall and will keep you cozy come colder weather. Pick them up at Barney's and get pretty in pipes.