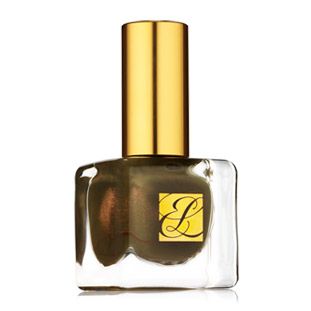 I've met Tom Pecheux on a few occasions and he's awesome. Not only does he have impeccable taste and a knack for being ahead of beauty trends (he was the mastermind behind the orange eye look at Derek Lam's S/S 2011 show, which set off the orange beauty trend), but he's honest and funny (ie, did you know that for the Victoria Secret Runway Show models go through hours of butt makeup!?). Pecheux's latest beauty collection is Estee Lauder's just-launched Pure Color Modern Mercury.
I was sent a few items from the collection — sadly not Pure Color Nail Lacquer in Metallic Sage
, which is an awesome shade of green and easier to pull off than their Wicked Green, so I'm going to have to hurry up and head to my Bloomie's counter (trust, it will sell-out fast!). Aside from the polish the other major stand-out is Pure Color Illuminating Powder Gelee. It's the perfect alternative to the brand's limited edition Opulent Shimmer Powder which I unfortunately ran out of and can't find anywhere anymore. I like it because you can use it on select parts of your face (ie your cheekbones for definition), or like me, all over your face for a glow. Like the Shimmer Powder it's not too shimmery so it actually looks totally natural even if you apply it lightly all over your face. Plus it works for every skin tone so there's no guesswork.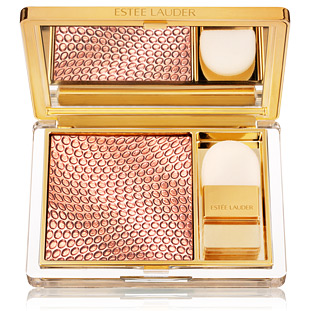 The collection also includes three new Pure Color Velvet Lipstick in Nude Velvet, Fuchsia Velvet, and Red Velvet, three new Pure Color Liquid Eyeliner in three highly pearlized shades of Graphite, Black Quartz, and Silver Zinc, and three new Pure Color EyeShadow Duos in Modern Mercury, Platinums, and Black Chrome.
You can check-out the entire limited edition collection by clicking here.