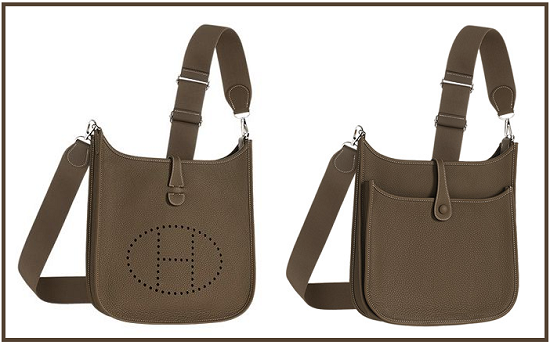 I feel like I'm making a confession: it has been three months since my last bag purchase. Even longer if I don't count sample sales, which I probably shouldn't. After using the Nancy Gonzalez messenger all summer, I've come to the realization that the crossbody style is what my life needs, first and foremost. Most days, I'm running errands and out with my kids. It's go-go-go all day long, and I cannot be held down by my bag.
Practicality has won. Instead of investing it yet another pretty top-handle or a showy and fabulous oh-so-current beauty (and there are sooo many of them!), I opted for the safest and smartest bet: the Hermes Evelyne III GM in étoupe (a very versatile dark khaki-tan). It's not going to turn heads, nor does it have the  cache of the Birkin, but I can count on it for a lifetime of ease and endurance. Like a fine wine, this clemence leather will only get better with age.
And you know what? It's actually pretty fabulous in that not so obvious way. The shade of étoupe is my favorite – a perfect balance of gray and taupe, it's the most neutral color around yet it stands out, thanks to a rich tone and velvety feel. There is a most functional full-size back pocket for quick-access item, meant to operate like the inside compartments of most bags (no pockets on the inside on this style). The full opening makes everything so easy to find; closure is a simple tab that glides over the bag and the back pocket shuts with a snap. Unlike other Hermès, it does have a logo, but it's among the subtlest you can find. The perforated "H" is discreet, even if it is really big, and I love the fact that you can get a peek of my bright pink wallet through the holes.
This is the Evelyne III – an updated edition with an adjustable strap that now matches the color of the bag (the previous version has off white straps with matching trim along the edge). The sizes have become more extreme: the PM is smaller and the GM larger than before. I opted for the GM, fairly big at 13" by 12", but with more youthful proportions, the roomier size is the way to go (although if you're petite, it might overwhelm).  This bag is definitely for the sportiest of Hermès clientele, those with the grounded confidence who is just going about her day, doing her own thing.
At Hermès for $2925, call Craig at 214-528-0197 (tell him Bag Snob sent you!). The étoupe is sold out, but get on the wait list – it shouldn't take too long. Meanwhile, blue jean, bright red and light pink taurillon are available online.