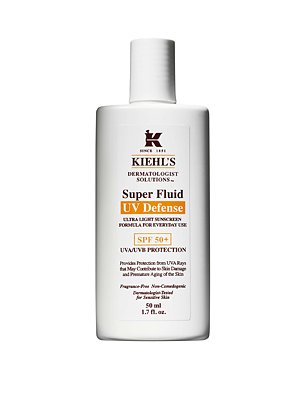 This new formulation of Kiehl's UV Defense Total Sun Block is miraculous. I loved the old formula, though it was a bit thick and heavy – great for beach days, but when I've got a full face of makeup, that's the last thing I want to slather on beforehand.
With SPF 50+, you are getting complete protection that doesn't mess around. Surprising, since this new Super Fluid formula is precisely that. It's so light and obviously oil-free that it glides right on over moisturizer and foundation without caking up and overwhelming your face in gunk. The finish isn't totally matte; it's more emollient, but it's so light it doesn't bother me. Besides, an utterly matte sunscreen feels uncomfortably dry.
Even better, it keeps out harmful UVB and UVA rays. When it comes to combating dark spots, the shield against hyper-pigmentation is my primary concern. Instead of going home and rushing to check out how much darker my spots have become after a full day in the sun, Kiehl's Super Fluid reassures that my spots are just as they were – still there but at least not worse! At Saks Fifth Avenue for $34.