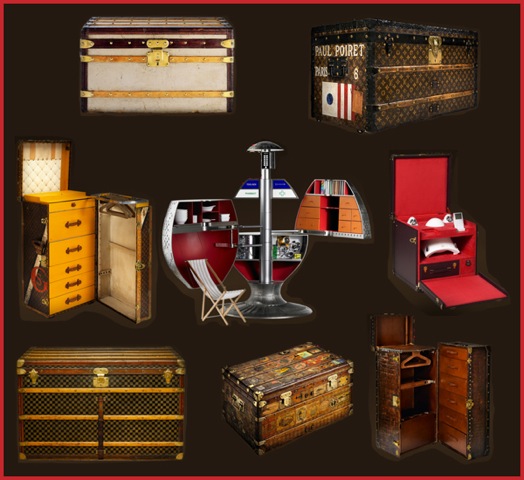 I spent eight weeks in Asia recently, which included two separate trips to Beijing, China. On one of the jaunts to the nation's capital, I was able to sneak away from work to visit the Louis Vuitton exhibit at the National Museum of China. I am probably the only person alive who wasn't surprised nor offended by the Museum's decision to show this exhibit. After all, the house of LV is known for its many collaborations with artists and often holds exhibits at galleries and museums. Granted, this IS the National Museum of China, but given the Chinese fascination with the brand, I'd say it is very much part of the country's culture. Three years ago I was invited to Louis Vuitton's atelier and private museum in Paris and found myself in awe of the rich heritage and tradition of the brand. Prior to my visit, I knew of its legacy as one of the first luxury luggage-makers in France and that all my aunts were obsessed with their heavily logo-laden bags. But it was during the atelier visit that I fully experienced Louis Vuitton (and should add that I was inspired to pull out many of my old LV bags, not to mention covet new ones!).
I had the same, if not more intense, reaction after the viewing the exhibit in China. Despite the way I've felt about previous Louis Vuitton bags, there is no denying their influence in both the art and fashion worlds. It's definitely a worthy exhibit if you happen to be in Beijing this month (exhibit runs until the end of August), the trunks on display will blow your mind. I'm also contemplating a custom trunk for my bags– the Kaiser had one made for his iPods, Janet Jackson's shoes have a custom trunk for traveling, why not one for the bag snob's bags!? I've wanted a trunk since my tour of the Louis Vuitton atelier in Asnieres– during my visit, I watched a few of the craftsmen hammer nails into trunks, they each banged to a melody and made the workroom into a symphony! Each trunk is meticulously hand crafted the way they have been for hundreds of years. They also had champagne bottles, glasses, & other items to use for measuring when retro-fitting the trunks. Talk about luxury!
Have you seen the exhibit? What did you think of the grandness of it all?