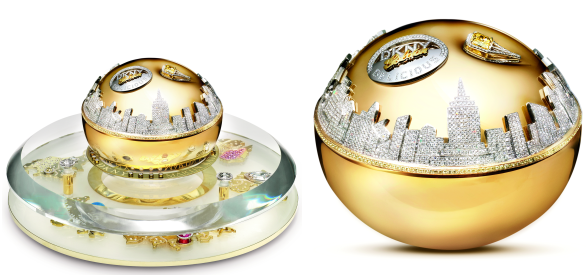 Celebrity jeweler, Martin Katz, has designed the first million-dollar perfume bottle and it's for DKNY and a very noteworthy cause. Proceeds from the sale of this one-of-a-kind flacon will benefit Action Against Hunger, a global initiative to end world hunger.
Katz, who has designed jewels that have adorned red carpets at the Academy Awards, Golden Globes, and the Emmy Awards, drew his inspiration for this special bottle from New York City, home of DKNY, and it is as magnificent as the city itself.
The million-dollar apple-shaped bottle is carved out of 14-karat white and yellow gold and features 2,700 white diamonds and 183 golden yellow sapphires to create the Manhattan skyline. The cap is a flawless yellow canary diamond weighing well over two karats. The apple sits on two tiers of water white glass which envelope the earth's continents in 14-karat gold, and those are embellished with indigenous gemstones. Katz himself hand-placed almost 3,000 precious stones to embody NYC's famous skyline. This is, indeed, the New York City Apple to beat all others!
This tour-de-force flacon is filled with the soon-to-be-launched DKNY Golden Delicious Eau de Parfum. The scent wafts of apples, oranges, lilies, and roses combined with earthy vanilla, musk, sandalwood, and teakwood. The result is elegance and sensuality.
The DKNY Million Dollar Bottle will travel the world from London to Mexico to Mayaysia for admirers to behold. Upon completion of its tour it will be sold with all net proceeds going to the humanitarian organization that has assisted over five million needy people every year for over thirty years.
DKNY and Katz should be applauded for their endeavor. This is one remarkable work of art for one remarkable cause. Brava DKNY; Bravo Martin Katz!