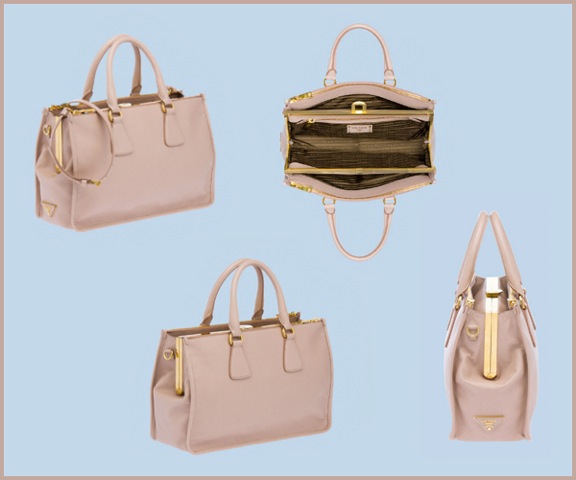 It's all about context. This is just a plain tote, but know it's Prada – and just gaze at the saffiano leather – and instantly it's welcome and desirable. It's not just the simplicity of this dusty-rose bag that got me. It's the center frame compartment that has me hooked. Not only does the emphatic gold hardware bring a needed firm line to a structured yet soft tote, it has a nice clasp that opens the center compartment revealing what functions like a whole other bag inside. It has the details of a clutch, making me wish it could magically detach and become its own little bag.
The tote also comes in a crinkled cream nappa leather, with a more rustic texture giving this stark, rigid bag the softness it craves to be used more casually. Crinkled or not, the overall feel is still incredibly ladylike and proper, which is what we loved about classic Prada bags in the first place. My one big complaint – it's heavy! There is a whole lot of weighty hardware on that frame, and the triple compartment adds the bulk of additional leather. Who said "lux" was light? Carry this tote and call it the lady's way to lift weights. At Prada for $2,595.
Pair with: Feel free to imbue a little tramp to your lady. With 3.1 Phillip Lim's low ankle booties of spotted calf hair, you'll play the part of the provocative sophisticate. 3.1 Phillip Lim "Lara" Boot, $550.