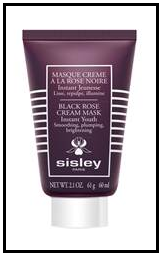 Sisley Paris was one of the brands I started using in college (thanks to my Beauty Snob aunts!) and one that I go back to regularly (especially if I'm having sensitive skin issues). The latest from the botanical based line is the Black Rose Cream Mask – a new plumping mask that gives your skin the freshness of youth in 15 minutes. Most of Sisley's masks are gentle yet effective and require no rinsing off (like the Flower Express Gel, one of my all time favorites!). This new mask is no exception. After 15 minutes, I merely blotted away the excess and massaged the rest into my face. I can't describe how soft and full my skin felt, almost like a rose petal.
Anti-aging ingredients in the mask include plant extracts rich in vitamins and amino acids to fully revitalize and repair your skin while making it velvety soft. The very gentle rose scent blended with flower oils made me feel like I was in a French garden. I've been waking up at 6:30am to get the boy ready for first grade – this mask is my treat to myself a few mornings a week!
The Black Rose Cream Mask will be available on October 15th for $158.
Call your SAs at Neiman Marcus, Saks Fifth Avenue, or Bloomingdale's, or go to the official Sisley website here for more info!