Remember a time when lace used to be stuffy and Victorian, fit for prissy old ladies and high-necked wedding dresses? I hardly do either. The new breed is not your grandmother's lace, far from it – but it's not too lingerie-like either. We have no desire to look like walking doilies, but rather than going brothel-racy, we're seeing an edgier vibe. Lace mixed up with unique combinations of fabrics, makes the texture not only day-appropriate but welcome in the workplace. This fall, stay current with at least one lace piece in wardrobe (knits and tweeds need a disconnect), even if you're just infusing intricate tights with a nubby tunic.
1) Antonio Berardi Lace and Satin-Twill Jacket:
As grown-up as it is spirited, this silky jacket delivers crispness via fine tailoring, button cuffs, and flap pockets and surprising sex appeal, thanks to its sheer lace sleeves and back. Business in the front, party in the back. On Net-a-Porter
for $2,200.
2) Bottega Veneta Silk-Blend Lace Bustier Dress:
A multi-colored underlayer creates an ingenious effect for this lacey cocktail dress. Bustier cups and a ribbon belt are hyper-feminine but that confetti-like print beneath it throws admirers off, in a good way. On Net-a-Porter
for $5,500.
3) By Malene Birger "Luono" Sheer Floral Lace Leggings:
The non-committal lace look, for both the wardrobe and the pocketbook. Treat these like tights and wear them with a casual dress, wear them as leggings with an oversized sweater, and add knee-high boots for just a peek of lace. On Net-a-Porter
for $175.
4) Carven Lace Dress: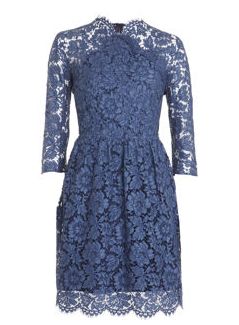 From weddings to cocktail parties to fancy dinners, hearty lace like this will take you far. The unfussy color and solid, zippered back counter a girlish flounce and sweet neckline. At Barneys New York for $1,295.
5) Red Valentino Lace and Tweed Dress: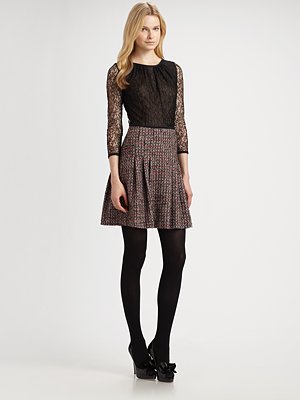 This whole outfit-in-one dress is the best of both worlds. Wear your lace and have your tweed too, with a slim pleated skirt and layered scoop-neck top that's suited for the office. At Saks Fifth Avenue for $695.