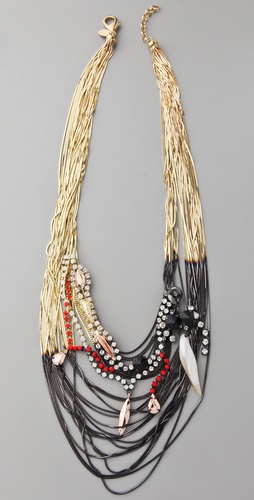 The look this season? Necklaces with layers upon layers of various chains, textures, tones and charms at Jewel Snob.
Fab's Fall Shopping List!
How many eyeliners have you tried that claim to be "smudge-proof" and failed? This is seriously the best liner Beauty Snob has ever tried!
Coquette is inspired by the delicate draping style of Doo.Ri.
B Brian Atwood is officially in stores! And with the release comes a few goodies: Buy any pair of the It-girl-worthy shoes at Saks Fifth Avenue and get a chic sweetheart bracelet with your purchase (while they last, of course) at Shoe Snob.
Second City Style sees school children everywhere doing their back to school shopping, but for fashion types it's Back To Fashion Time!
Book Review: Cinderella Ate My Daughter at Tot Snob.
Shopping and Info loves the Oliver Peoples aviator sunglasses seen on Angelina Jolie.
Couture Snob's Top 5 Best in Vests: Always a Sound Investment.