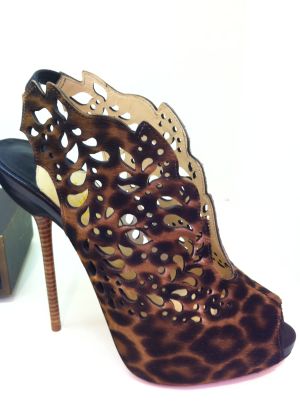 Laser-cuts of eyelet and leafy teardrops on a peep-toed, sling-backed, stacked heel by Christian Louboutin has all the makings of a shoe that makes Shoe Snob's heart jump.
Editors' Picks: Our Denim Must Haves at Fab Sugar.
Coquette adores the the fresh new take on polka dots.
Save this mystical piece at Jewel Snob for when the time is right, and draw the ribbon around your tumbling locks to write your own romance drama.
Second City Style did intensive research to bring you a list of the top bags from recent films in Handbags of Summer Movies Revealed!
Check out these new booties from PediPed shoes at Tot Snob!
Shopping and Info is a new fan of Emma Stone from Crazy, Stupid, Love and loves her Brian Atwood pumps seen on David Letterman.
For fashion's sake, this DKNY twill cape at Couture Snob is the current look.
Look what lies beneath: so many details hiding in this seemingly simple goatskin bag. But, duh!, it's Jérôme Dreyfuss at Bag Snob.