A mellow mix of INXS played in the background, while I got the inside scoop from Bibhu Mohapatra backstage during his Spring 2012 presentation. "She is the Helmut Newton girl," he explained with passion. "The clothes are based on unseen Polaroids from Helmut's shoots." Needless to say, Helmut's – make that Bibhu's girl – is comfortable in her own skin, so confident she sees it as an accessory. Bibhu is making the announcement that women can be revealing and sophisticated at once. It's all about being svelte of form and confident of self.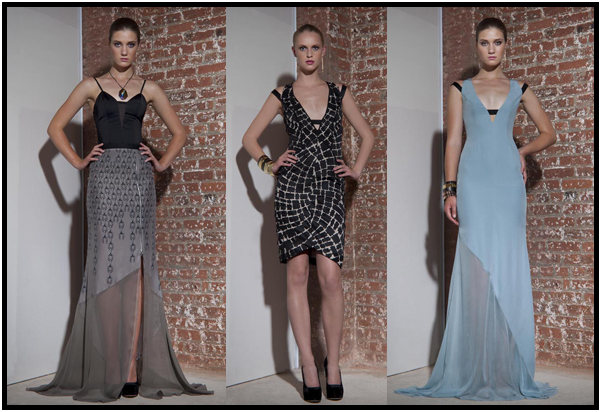 Bibhu's favorite look in the collection is also mine: a pair of pleated mousseline dothi pants in a standout shade of tangerine. Flounced to absolute perfection, they have the ease of Grecian draping with a boldness that necessitates that self-assurance. Gowns, in shades of pale dusty pink and nude, resembled deconstructed antiques, sexed-up with bondage straps and cutouts. Sheerness was infused throughout: long dresses, some in a strong chain-link print, revealed flashes of a leg on one side with pleating on the other. This created a peek-a-boo effect that made the asymmetrical reveal all the more suggestive. But it wasn't all evening sensuality – a cotton pin dot jacket, paired with stand-out cuffed trousers, reads city ease.
Bibhu seems to have found his spirit photographer; if he stays on this track, he's en route to define his own sense of sex appeal.
Photo Credit: Style.com