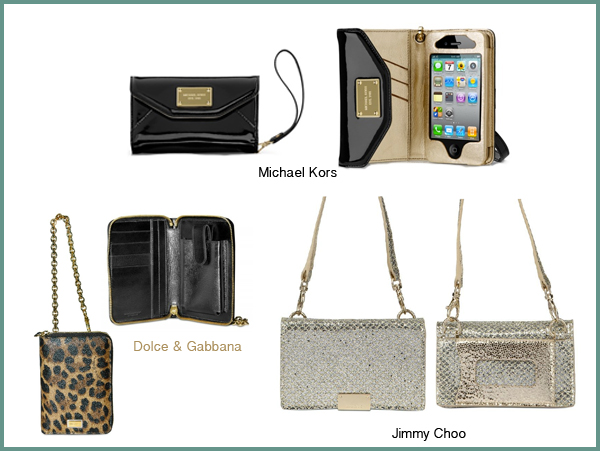 I have an iPhone case that I think is pretty nifty (so much so I also got one for Tina), it has a card slot in the back so I can run around with just my basic needs – credit card and phone. But the trouble is, I forget to put my card back in my real wallet and you can imagine the inconvenience that ensues. Here are some better options and they all have their pros and cons depending on your lifestyle.
The Jimmy Choo is not only better because it's glittery, but I like the fact that the phone goes on the outside for easy access and quick check of the frequent texts. It leaves the interior for more stuff, you can even get a lipgloss in there, making this the best disco bag ever, especially with the crossbody strap for dancing!! At Luisa Via Roma
for $365.
I'm loving the Dolce & Gabbana leopard print and the chain can be used as a wristlet or can attach to your tote. It is meant to hook to your trousers?? Uh, that is not a look you are after, unless you are a really hip longshoreman. The downside is, the phone is totally strapped in there without a view of the screen so you will be doing a lot of fumbling around. At Luisa Via Roma
for $534.
The Michael Kors seems to have the best function and price, but the plain patent leather just doesn't stand up to the luster of the others. I guess it's the age old question, fashion or function? The screen is fully visible and usable so you don't have to keep taking it out. But you better have a bluetooth headset because talking on the phone while it's in the wallet is not only cumbersome but will look quite silly. This also comes with a wristlet and can easily be your everyday wallet as well as your evening clutch. At the Apple Store for $79.95.