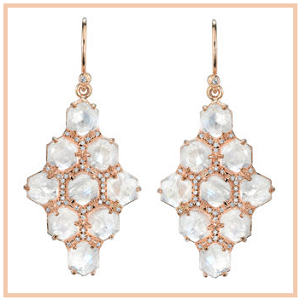 Moonstone: believed by legend to form from moonlight that has been solidified on earth, there is so much myth and lore associated with it. The ancient Greeks called it "Aphroselene," after love goddess Aphrodite and moon goddess Selene, it is sacred in India, and some believe that when you wear it, you will attract a lover.
Whatever you think, there is a definite mythical attraction to moonstones. Just look at Irene Neuwirth's bewitching earrings, moonstones set in rose-gold with inlaid pave diamonds. There is a mystery to each romantic stone. So much more interesting than diamonds that sparkle arbitrarily, they shine rarely and on their own accord, as if they will only glimmer with good reason. When they do, it's as illusive as a rainbow in the dark. Neuwirth's hexagonal arrangement forces them to give off even more light and radiance than they ordinarily would – a sweet beehive-like cluster only further enforces the seductive power of the Queen Bee who wears them. At Barneys New York for $8,050.
Pair with: You're already channeling Aphrodite, so I'd suggest wearing a goddess gown that promises to incite amorous feelings. Rachel Gilbert's creamy peach silk-chiffon gown has a flowing skirt and cinched, waist-supporting bodice covered in low-key sequins. On Net-a-Porter
for $1,655.