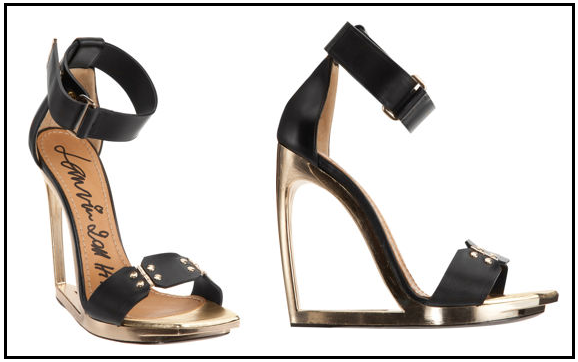 Industrial sex kitten. Lanvin cultivated this hard-sensual look for their Spring 2011 collection, with sandals standing on nail-like heels out of the hardware store and fitted leather straps juxtaposed against utilitarian metals. Commenting on that show back in February, Alber Elbaz said, "I only want to make women feel gorgeous, comfortable, and beautiful."
Obviously, Elbaz isn't changing his tune anytime soon – why would he? Isn't that what we all want, all the time?! – and the industrial sex kitten vein is continuing through fall. These severely angled sandals are here to prove it (well, maybe except for the comfortable part). Why not go with the can't-miss look of hearty straps and a painfully cool heel? The leather band across the toe is decorated in hardware that resembles door hinges, but it's actually pretty understated compared to that stiletto cutout heel. The negative space creates the illusion of a wedge, and the uncompromising structure gives the stiletto some much-needed stability.
Gold makes for a glamorous evening shoe, but the style is as versatile as they come. Anyway, why shouldn't your evening shoe be tough-as-nails? Simply describing these platforms as hot is like saying Chris Hemsworth has a nice body: an audacious understatement. At Barneys New York for $1,590.
Pair with: I'm sticking with Lanvin for this one. This dusty-rose pleated silk-gazar mini dress will bring some soft to the hard shoes and more importantly, really show them off. Normally, overly fluffed and feminine sleeves would be too much, but heels this mean can handle it. On Net-a-Porter
for $3,640.