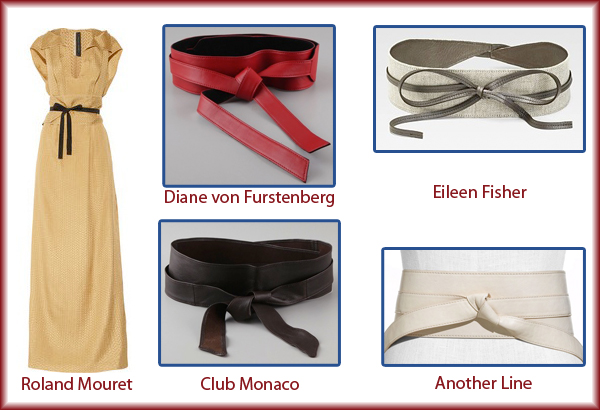 The obi belt, part of traditional Japanese dress and considered most elegant when it's tied in proportion's to the wearer's dimensions (with a width about one tenth of your height). After centuries completing the look of a kimono, the obi belt is a must this season, whether you need one for a new fall dress or just want to update your faithful LBD.
Why has the obi withstood the test of time for hundreds of years? This customary belt happens to be the most flattering: it accentuates a small waist if you're lucky enough to have one, or with the graduated large-to-small layers, it gives the illusion of a slimmer waist. Roland Mouret has a kimono-inspired textured silk gown dedicated to this look, but for real versatility, just get the belt and mix and match to your content! Dainty and precise or casual and loose, the obi is anything but restrictive.
Roland Mouret Maxim Textured-Silk Gown on Net-a-Porter
for $2,835.
Diane von Furstenberg Large Obi Wrap Belt: Diane's lambskin style has extra-long ties to exaggerate the look. Cherry-red will pop with anything – carry on with your colorblocking or go monochrome scarlet, a la her runway look. On ShopBop
for $245.
Club Monaco Ophelia Obi Belt: Black is, of course, the most flattering. This simple (and affordable) obi can be appropriated with everything from fitted cocktail dresses to long gauzy skirts. On ShopBop
for $79.
Eileen Fisher Linen and Leather Obi Belt: The obi for those who don't want to commit, this linen cincher has a girly ribbon-like bow that's more demure than traditional ties. Metallic taupe adds a great accent. At Saks Fifth Avenue for $108.
Another Line Obi Inspired Elastic Back Belt: If frugal snobs don't approve of this, I don't know what will strike their fancy! Get all of the trend appeal and none of the price. A snap-closure makes for no-knot convenience, along with an elastic band at the back for ultimate cinch. At Nordstrom for $23.90 (from $48).