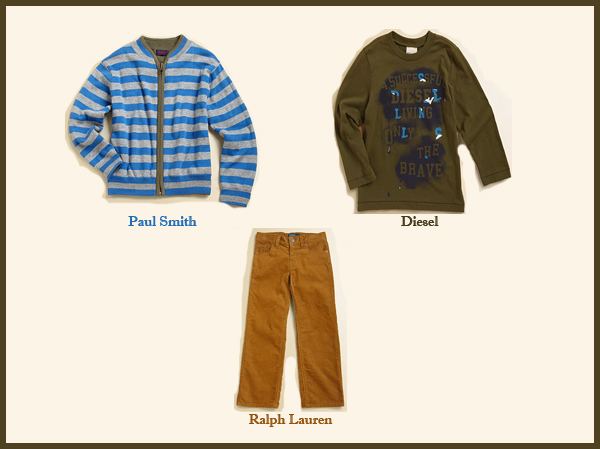 Stylists advise to avoid wearing one designer head-to-toe, and hey, why shouldn't that suggestion apply to our little boys?! I may not have one of my own, but it's common sense to know boys don't want the fancy-pants look. But that doesn't mean they have to
be relegated to wearing khaki and hoodies all the time. Start them young and cultivate their fashion sensibilities with looks that don't offend their boyish tendencies. It's all about baby steps, so to speak. Play with colors and take style risks in small doses. A striped cardigan a la Paul Smith here – with an army green collar, this three-tone sweater will never look too matchy-matchy – and a pair of crisp Ralph Lauren corduroys there. Lighten his mood with a graphic tee – Diesel's is tough and distressed-looking – and he will feel as cool as he looks.
Expression through fashion is good for tots, rough-and-tumble boys included. Think about how much you love a man who knows how to dress himself; it's great incentive to start them while you still can influence them!
Paul Smith Toddler and Little Boy's Cotton Cardigan at Saks Fifth Avenue for $132.
Ralph Lauren Toddler and Little Boy's Corduroy Pants at Saks Fifth Avenue for $49.50.
Diesel Toddler's and Little Boy's Long-Sleeved Cotton Tee at Saks Fifth Avenue for $35.