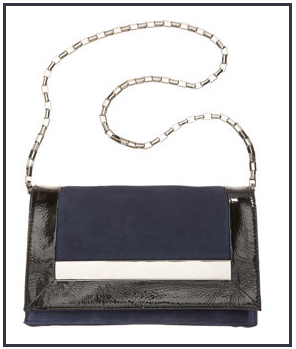 I love, love, love Pierre Hardy. He has a way with texture, silhouette, and geometry that few do and you can recognize his work in an instant, without the glimmer of a logo. He also withstands the test of time: I still use my shoulder bag I bought in 2007. Now that I have come across this hyper-modern yet totally classic clutch, there's my cue to update my Pierre Hardy collection. It has all he's known for – a mix of matte and shine, seamless blending of hues, and graphic, fluid lines. Not only does the combo of black and dark blue happen to be one of my all-time favorites (it also comes in metallic silver which lacks the boldness), setting the trim in textural patent leather makes the suede look even more lush. But it's that metal bar that sets this clutch ahead of the rest. Futuristic flair on a little bag? When it's executed like this, as a mirror-shiny, 3-D bar, you've got a great detail that changes the whole tone of a perfectly attractive bag.
It comes with a fittingly sleek shoulder chain if you find the need or occasion, but I'm seeing this mainly as a clutch in my hand. Even the price isn't bad, especially considering I'll be using this for the next four years (and counting), as I've done with my other beloved Hardy. At Barneys New York for $750.
Pair with: Bring some contrast to the table with a pair of wine-colored shoes, surprisingly neutral and very right-now. Take your plumy pick of Brian Atwood's studded pump, Nicholas Kirkwood's shiny stiletto, Miu Miu's Mary Jane, Pucci's knee-high boot, Gucci's boyish brogue, or Diane von Furstenberg's strappy ankle boot.