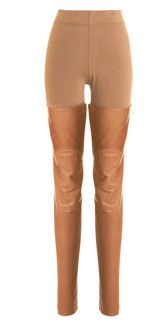 After giving The Row a go-round and wearing David Lerner's to death, I have discovered the best leather leggings ever. These are so logical, it's amazing no one has thought of them yet – Raquel Allegra has designed a pair that functions as fashion yet won't constrict or stretch out in the wrong places. Caramel-colored leather goes all the way up to the mid-thigh and then reveals a layer of jersey fabric. Totally comfortable, but you get the look of (usually uncomfortable) thigh-high boots. It's a coveted combo of cool and ease that can be worn daily.
A style like this – with stretchy material in the butt and thigh area, where so many bodies are so very different – flatters more body types than strict and stubborn all-leather pants.
Paneling at the knee only adds to the look and elongates the leg. A must for fall, wear these with any shirt in your closet. It's virtually impossible to look bad with these on – even a sloppy tee becomes a look with leggings this rad. At Barneys New York for $816.
Pair with: Turn out your new staple with a flush of color. Balenciaga's new padlock bag in magnetic electric purple and super-grainy leather will enhance their rock 'n' roll spirit. Balenciaga Padlock Shoulder Bag, $1,595.