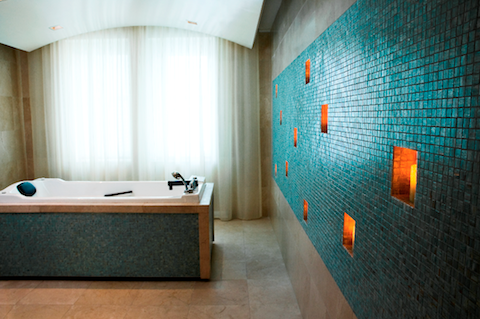 You'd think I was three times my age based on how often I complain about aches and pains, but between working out and wearing heels regularly there's always something hurting! I went to the Guerlain Spa at the Waldorf Astoria a few weeks ago for a deep tissue/Swedish massage to rid me of a neck/back pain. Every time I turned my neck to the right it hurt and while the pain didn't go away completely after my treatment, it went from a 10 to about a 2 after just 50-minutes ($180). Here's the breakdown —
The good:
*The re-opened spa under the new management group feels shiney and brand new.
*The massage therapist I had was awesome. She asked exactly where I was hurting, how much pressure I wanted, where I wanted her to focus, etc. so that we did not waste anytime during the treatment.
*The treatment was relaxing and never painful while still being effective.
*The therapist seemed very knowledgeable and suggested tiger balm and some Kneipp products for my sore muscles after the massage (they're on my research to do lists…).
*They use a neck pillow that smells divinely delicious (like apples with cinnamon!).
*When you leave they give you a coupon to use for your next visit.
*The comfiest spa shoes I've ever worn!
*Very large relaxation area.
The Bad:
*The changing room lockers are in the co-ed gym so you have to walk through the gym and then through the spa reception while in your robe to get to the relaxation room. Not horrible but I didn't feel comfortable walking through a gym with sweaty guys/fully dressed people in my robe.
*The showers are in the changing room and the door to get in isn't opaque so if you're walking around in a towel in the changing room anyone in the gym could look in – again, not a huge deal, but I'm a prude!
Take-away: Overall my experience was stellar and I came-out relaxed and refreshed, not always the case when you're going in for a treatment because you're in pain. Jump for the breakdown of the Hilton's Spa Merge.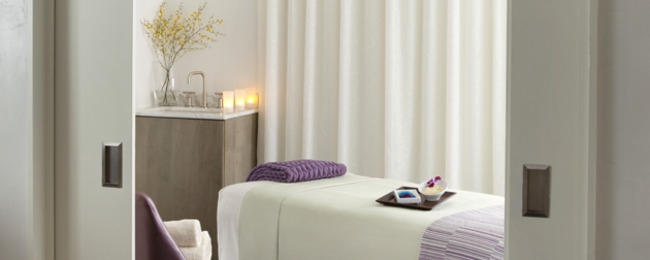 When I went to the Hilton's Spa Merge I was trying to not only relax from all of the New York Fashion Week craziness, but also looking to appease some knee pain. Unfortunately, I left the spa in more pain than when I walked in for my 60-minute Fusion Massage ($130)! Here's my breakdown —
The Good:
*The whole spa smells fantastic. They use aromatherapy better than any other spa I've been to in recent memory.
*They use heat to relax you and it's very effective. When I got on the massage bed the blanket was warmed.
*When you're faced down, unlike most spas where you see the floor or the therapist's feet, Spa Merge has a rock-like stones in various colors for you to look at. They pour eucalyptus water on them at the start of the treatment and it's incredibly soothing.
*Their eye pillows are heated and scented with chamomile, again super relaxing and helps de-buff eyes.
*They have fantastic massage suites with your own shower and bathroom.
*I loved the ocean music they played throughout my treatment.
The Bad:
*Very small relaxation area.
*My therapist did not ask me exactly what I wanted done. I filled out a form, but I like to go over what the treatment will entail beforehand so I made a point to tell her where I wanted her to focus.
*I asked for a mix of deep tissue and Swedish and pointed out the areas that hurt and though the treatment was relatively relaxing she didn't focus exclusively on the areas I had highlighted so even though I brought this up during the treatment it wasted precious time!
*A few days before my treatment I hit my leg into the corner of my coffee table and ended up with a big bruise — I'm talking at least one inch long and 1/2 an inch wide. She kept massaging over it and it was SO painful. I told her this after she didn't stop and she couldn't see it! I mean it was dark, but still…
*The major bummer however is that I had neck/shoulder pain when I walked out of the spa. I have pain in that area frequently, but this was clearly as a result of the treatment and unfortunately my knee pain was not mitigated.
Takeaway: Love the spa's use of aromatherapy and heat therapy, but I was disappointed in the effectiveness of my treatment.