When it comes to wallets, you either choose style or function. Here are 5 wallets that clearly have both. They have all the flourishes you desire with organization to spare. Lace and embellishment is this season's look but there are also options for the edgier hipster. I am always in the market for a new wallet and I honestly cannot decide. I would be happy with any of these. Or all of them.
Jimmy Choo Filipa Leather Wallet
This Jimmy Choo is almost Valentino-like with the flower appliques (or maybe Chanel-like with the Camellias), they are adorable but a bit on the prissy side. If it wasn't so difficult changing out wallets, I might consider this when the mood strikes. At My Theresa
for $575.
Bottega Veneta Nero Plaster Micropizzo Wallet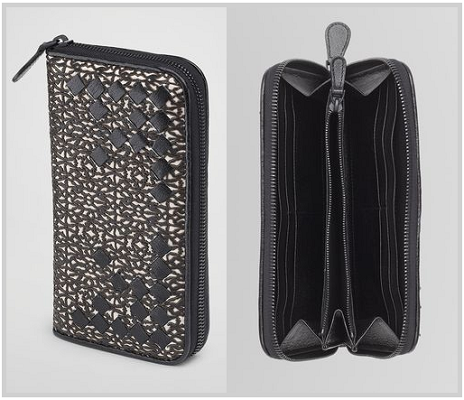 I was very close to closing the deal on this wallet but decided to shop around. The lace detail is huge for Bottega this season, the look extends from RTW all the way to their jewelry. This wallet is simply pretty, the white background looks more prominent in person but that adds to the dimensionality of this intricate design. At Bottega Veneta for $860.
Alexander Wang Zip Around Wallet
Alexander Wang puts his cool touch to everything that comes out of the house and the wallet was definitely not overlooked. This has the same styling as the Devere Bag
with the notched flap. One of the greatest features to ever appear on a wallet is the expandable zippers on the sides! A sheer necessity if you don't have time to clean out your wallet on a regular basis!! At Saks Fifth Avenue
for $265.
Proenza Schouler PS1 Wallet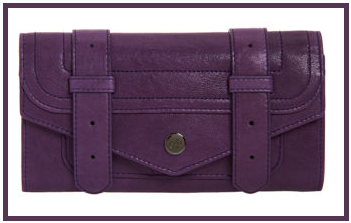 If you have a PS1 bag, you must get this to match. If you don't have the bag, you must get this to compensate for that fact. Either way, this is an easy sell. The purple is like icing on the cake! The wallet has the same iconic strap details without hindering the function in any way – it closes with a snap. The interior has all the fixings of any super wallet. At Barneys New York for $585.
Valentino

This Valentino is the only reason I didn't get the Bottega Veneta wallet. The lace detail is so much more ornamental and delicate but not to worry about the wear, in patent leather you can be sure it will endure the hardships of your bag. The blush is so girly making this the ultimate feminine wallet. At Valentino for $495.