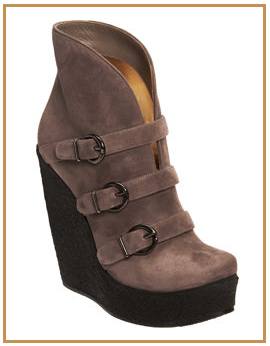 Right on-trend, but not nearly as clunky, chunky, and industrial as other buckled-up wedge booties. Walter Steiger, newly revamped for Barneys New York, has struck a balance between fall-friendly girth (after what feels like ages in sandals, my feet are begging for some protection – and socks!) and fashion-friendly cuteness and wear-ability. That's why this triple-buckle, neutral suede boot is my favorite casual bootie of the season.
Refining the buckles and giving space between the tailored straps makes for a feminine look, and I love the open vent at the top, a deep-V that counters so much coverage with some sexiness. It also frames your foot like sturdy yet elegant collar, making your ankle look oh-so-dainty. Juxtapose that again super-solid big wedge, and you've got a winner that's made for walking. At Barneys New York for $1,195.
Pair with: Be monochrome-cool with Zero+Maria Cornejo's tauper leather legging-pants, with perfected seams and a slimming fit, leaving just enough room for a hint of skin to show in your boots. On Net-a-Porter
for $1,495.