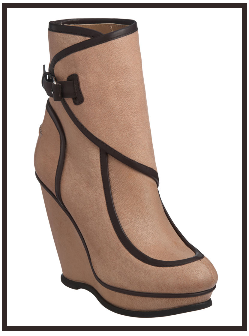 Shoe Snob is loving this interesting take on the ankle boot. This Balenciaga number is unique, sexy and certainly not your run-of-the-mill option for fall footwear.
You know that feeling when your hair is just a little too clean? Schwarfkopf's OSiS Dust It powder at Beauty Snob is a product every snob should have in her hair product arsenal.
Happy Birthday, Rachel Zoe! FabSugar Celebrates Her Best Boho Glamour!
Parisian designer Philippe Audibert's collection cuffs at Jewel Snob boasts all the strong effect of a hefty cuff with none of the severity.
Shopping and Info loves the Herve Leger Rose Nude Dress that is so Blake Lively from Gossip Girl.
A focal-point coat is an absolute must for fall. How else do you expect to look forward to dropping temperatures? While some designers have gone a little too literal with the funked-up military style, Clements Ribeiro keeps it chic and easy at Couture Snob.
StyleBakery.com is counting down the top fall fashion trends, including 70s-inspired looks.
Here are Tot Snob's top bathtime essentials to get your tots fresh and clean and still keep a smile on their faces!