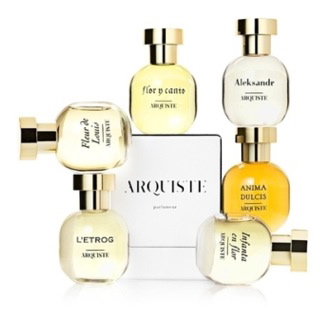 A few weeks ago I went to a breakfast at Barneys New York on Madison to preview some of their new launches for Fall. The one that stood-out far and away as the most memorable was Arquiste, a new line of fragrances exclusive to Barneys, developed by architect Carlos Huber ($165-$175). The premise of the line sounds a bit gimmicky at first – each of the six scents are based on a historical moment in history, but when I learned of Huber's passion for history it began to make more sense. Not only do they say that scent is the sense most tied to memory, but it turns out, prior to working in fragrances, Huber worked in store development at Ralph Lauren where he was
involved in the preservation of stores as well as interior design. He coined the name of his brand as a reflection of his two passions: architecture and artistry. I was able to smell all of the fragrances and history or not I was impressed! It's hard to find fragrances that actually are appealing, but also stand-out from the thousands of others that line department stores and these actually succeed. I'm completely hooked on L'Etrog!
The unisex fragrances are inspired by such diverse moments as the first meeting between Louis XIV and his bride Infanta Maria Teresa in 1660 and ceremonies performed during Sukkot in Medieval Italy (this one is L'Etrog which means citrus in Hebrew). What's cool about the line is that Huber did extensive research so that each fragrance reflects the vegetation, the people, the buildings, etc. and he worked with Givaudan perfumers to turn his research into something olfactory pleasing. Each bottle comes with a booklet describing each historical story represented in the collection.