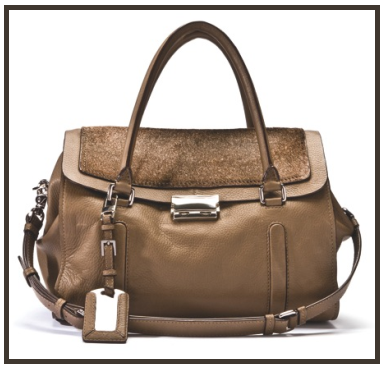 Funky elegance. That's how I like to describe Barbara Bui. Did I mention that tweaked sophistication tends to be a can't-miss mix, a sensibility I can't help but find myself attracted to? I'm sooo happy Barbara Bui opened on Rodeo Drive; that end-of-summer sale got me into a lot of trouble (shoes, shoes, and more shoes filled my car, as I left with guilt-tinged glee!). But it's not until I take home the Tootsie will the fun really begin: I think Mama's got a brand-new bag.
Your everyday satchel, the Tootsie is not, although it might have you fooled at first glance. Look again. Maybe Mulberry comes to mind. As we've learned, what makes a bag is all in the details. The most obvious special element is the pony-hair flap, but it's the fact that it's a precision-cut piece, leaving a leather border out in the open that makes me oooh and ahhh. Had the flap been done in all pony, this bag would have lost its sharp focus. On to the shiny hardware – Bui's signature is in her unique clasps (they make cuffs with the same clasps that are insane!). Against the matte of the pony, their gleam is not only welcome, it's needed. Shoulder straps are a bonus, but I'll be going top handle all the way on this – with matching handles mirrored lower on the body, trimmed in stitched leather strips, this perfect bag reveals a perfect balance.
Available at Barbara Bui on Rodeo Drive for $2,370. Call 310-275-4452 to purchase!
Pair with: Toss this over Milly's leopard-print faux-fur trench and you have easy autumn glamour at its best. It looked chic on the runway with bold blue gloves, but Bui's bag will add tonal, carefree texture to the wildcat coat. On Net-a-Porter
for $695.