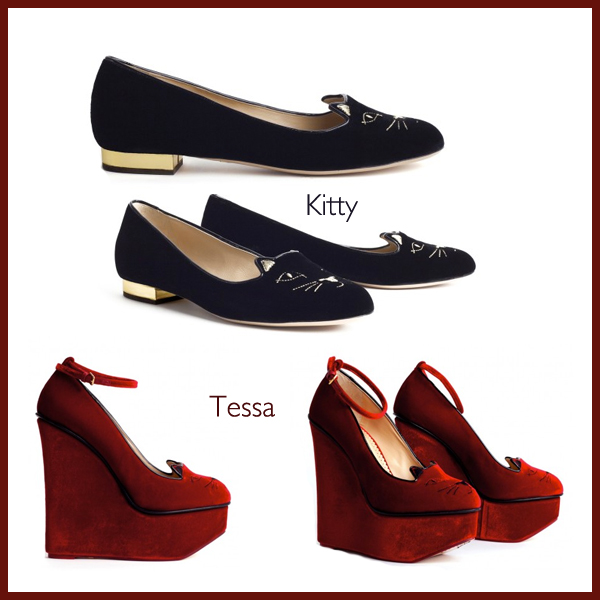 Charlotte Olympia's take on shoes with personality, that's what! Designer Charlotte Dellal gets it right with these two opposite yet equally impish styles. You just can't put a mischievous little kitty-cat face on a serious-looking shoe – the look has got to be playful and fun, all the way through. And what's more playful than 6″ geisha girl platforms?! Not to mention how much fun it is to gain all that crazy height. In lush red velvet, these are big yet delicate wedges ($895) of holiday-party perfection.
On the flipside, a black cat has never looked more charming. I love the flats cuz I'm in a phase. These velvet slippers ($765) glimmer with teeny golden heels and a sparkling feline face. These are so much better than the mouse shoe from Marc Jacobs. We all know cats are chicer than mice! And you'll want to take these pets everywhere. Whether you want to add half a foot of height to your swagger or glide around with the nimble ease of flats, this is a litter of cats you can bet no one will be allergic to.
Pair with: Whether you choose the red or black kitty, this Carven coat is a brilliant match. A blend of ivory alpaca and wool looks like a stunning cloud of snow. An inverted collar and patent-leather trim makes it a stand out in the crowd. On Net-a-Porter
for $1,670.