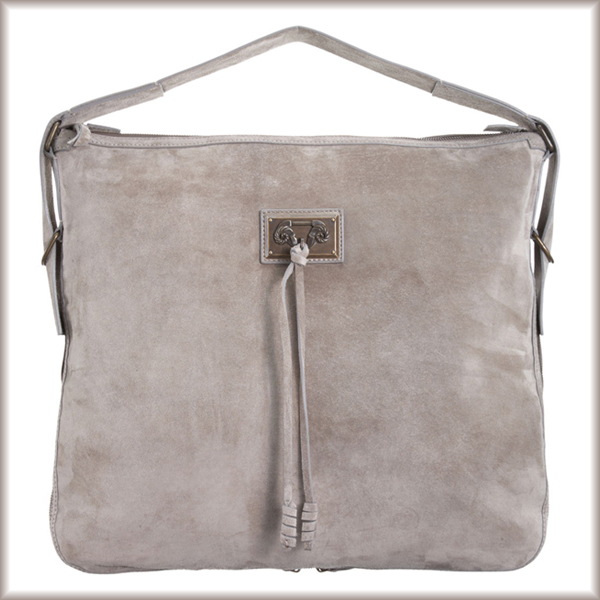 I might be so over "greige" when it comes to my choice of nail color, but if you're talking about a roomy day bag designed for cozying up to? I'll never get bored. Suede is lush in this soft color, and with the Tatum hobo, Derek Lam has produced a classic look with a touch of streetwise style. It's true, the shade is similar to the color of pavement. No door-knocker hardware for this bag. With little more than an unobtrusive and trimmed-down ram's head plaque and ultra-minimal, elongated tassel-straps hanging down, this has an emphasis on the texture and keeps everyday luxury in mind.
Rather than the boxy square it resembles in the photo, this tote is perfectly slouchy when you wear it (and take the stuffing out). The top curves comfortably under the arms, so you get a lot of room and a lot of give, which is just what you need for a reliable day bag. Plus, you can be sure that suede strap won't slip off your shoulder, and an expandable zipper makes for packing ease. Minute details done with an urban sensibility makes for understated chic: easy as can be but too cool to ever feel old. At Barneys New York for $1,790.
Pair with: Since this hobo is so divinely light on the hardware, you can get bold when it comes to accessories. Go street-tough with Fenton's mix of Shambhala-style beads, bone shapes, and sharp spikes on their onyx and silver cuffs. Fenton Silver and Onyx Cuffs, $525-$600.