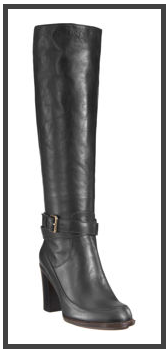 Myths of winter: Santa Claus, reindeers, and the perfect stylish yet warm boot. Scratch one off the list of make-believe! Derek Lam's "Teddy" is your ideal winter boot. As pleasing as the name suggests, this is an all-around, wear-everyday, knee-high boot that hits you just right on the leg, whether you're wearing a skirt, dress, or pants.
It's got a slender platform so you won't feel the sting of the ground and a sturdy heel that's sensual rather than chunky (at just over three inches it gives you height and hours of comfort). The back, running over your calf, boasts a wide elastic gore panel for easy fit and flexibility (along with an inside zip, this boot can definitely glide over slim pants and thick tights without grief); with a leather strip down the middle, your boots will be supported, not sagging down.
Derek may be flaunting his practical side, but you know he's all about appealing details. He gets the seam action just right. It's fluid and unimposing – none of that despised center seam, a total no-no when it comes to boots. The Teddy keeps it current with that hint of wrap-around strappy-ness, but this is a subtle touch that won't go out of style; it will be just as relevant next year and the year after that.
In reality, it the only boot you need for the season, and when I say that I mean it –I seriously only buy one boot every season. Here it is, and you can even count on it to last you at least a couple. At Barneys New York for $1,290.
Pair with: Bundle up your feet and your body with Haider Ackerman's gigantic, wrap-able, cinch-able cashmere sweater. A twisty asymmetrical hem and ribbed sleeves make it a winter must. Haider Ackerman Oversized Cashmere Cardigan, $2,085.