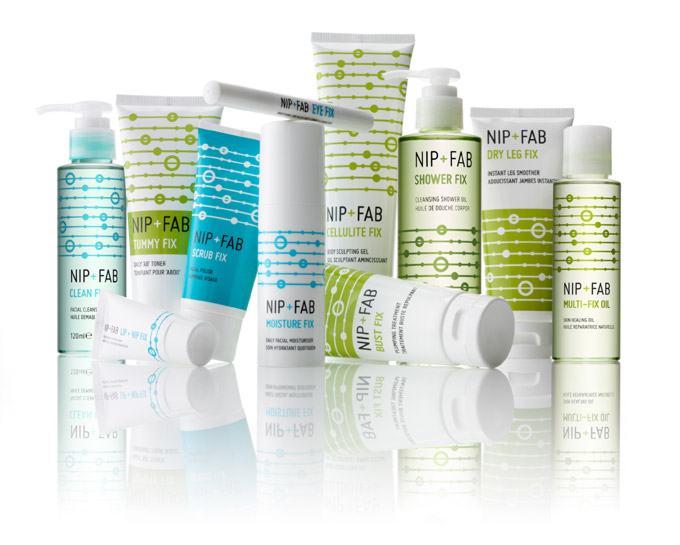 In theory there are plenty of places I'd like nipped and tucked (who wouldn't!?), but when it comes down to it I'm an old fashioned gal and, at least for now, I'm sticking to diet, exercise, and beauty products to keep myself looking as good as I possible can…Here's to hoping that's good enough for the long haul! One of my fave brands to offer an alternative to going under the knife/needle is Rodial. Not only are their products effective, but they're chic, sleek, and they've got some of my favorite product names (think Skinny Beach, Boob Job, and Tummy Tuck). The line is packed with some of the best active ingredients and is clinically tested to prove its efficacy, but prices are far from cheap. Luckily for frugal snobs, Rodial has now launched an affordable line called Nip + Fab. Everything in the line is under $20 and the packaging, marketing, and careful formulations are all in line with Rodial's philosophy. I met Maria Hatzistefanis, the founder of Rodial and Nip + Fab, and she told me that the price difference has to do with the number of active ingredients. On average the frugal line has one compared to Rodial's five so the line is best for younger or less damaged skin.
I've tried out a few of the products, but my fave so far is Bust Fix, which I've been using on both bust and bum. It's on the thick side, but it absorbs quickly and gives the instant firming feel that I always get from Rodial's products. The line's number one seller however is Frown Fix — literally the wait list was in the thousands when the line launched in the UK! Target has a few beauty lines, but this is by far the most appealing, especially now that Soap and Glory is no longer sold there and with 24 products Nip + Fab targets most every body part we're looking to hit.
The line officially launches at Target stores this month.
On a side note, when I met with Maria I got to preview some of Rodial's holiday offerings and they include the most divinely scented candles, so if you can, hold off on buying any till later this Fall!