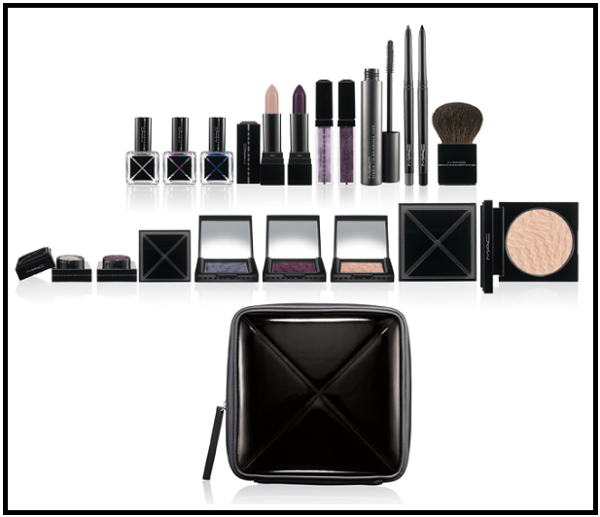 What do the global makeup brand and the futuristic-renegade designer have in common? A flair for the unexpected. For their full-range collaboration, MAC and Gareth Pugh have harnessed their imaginations and join forces to deliver a collection that is at once fierce and fragile, somber and enchanting. And that was just the idea.
Gareth explained that when he designs clothes, it's "about contradiction and the struggle between lightness and darkness." Why shouldn't the same ideas apply to cosmetics?
Divided literally by two faces (naturally, one dark and one light), the array of shades amounts to bold juxtapositions. One side is devoted to plums and dark blues, the other founded on silver iridescence. And they are all designed to be blended to your liking. For lipstick, choose between Fervent (blackened berry) or Restrict (greyed nude), or create your own hue with both. But it's not all black and white, so to speak. Standouts include the Hyper nail polish and Outrage lipglass, both inspired by a butterfly wing; as your gaze shifts, it melds from rich emerald green to a deep purple.
Finish off the enigmatic looks with the Elude Beauty Powder, a single translucent shade so neutral it matte-ifies any and every complexion. True Pugh-devotees – or real eyelash enthusiasts – will be tempted to try the unreal Flight Lash, a heavily geometric, triangle-shaped false lash. I would air on the subtler side and inject some of Gareth Pugh x Mac into your regular routine, letting your deep berry lips or hologram nails stand out on their own.