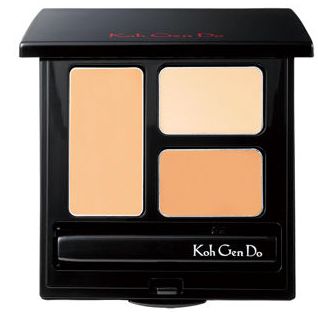 A makeup artist showed me a trick to cover flaws, like dark spots or pimples. You first cover the area with a dark concealer and then follow up with a lighter one on top – the flaw doesn't show through (the darkness totally covers it; the light topper blends with your skin tone)! But who wants to fuss with multiple concealers? We already have enough clutter on our vanity tables and not enough minutes in the day. Especially when the shades might not blend together well. Koh Gen Do, an advanced skin care line designed for professionals, has solved the dilemma. Their Moisture concealer works so well you will think it's magic!
This three-shades-in-one concealer compact is so creamy it ensures easy blending, and yet provides full coverage without that dried plaster look. The light formula is designed for sheer layering with no cakiness, so you can actually lay it on generously without looking like you're wearing makeup. It covers discolorations, dark circles, and blemishes, and can even be used to prime eyelids, contour, and highlight. Its moisturizing botanicals and amino acids combat dryness – a typical problem with many concealers.
Finally, I can truly cover up my hyper-pigmentation without resorting to peels or laser treatments for removal. Now that I know how to apply like a professional, I'll be dedicated to a truly professional concealer. At Barneys New York for $54.