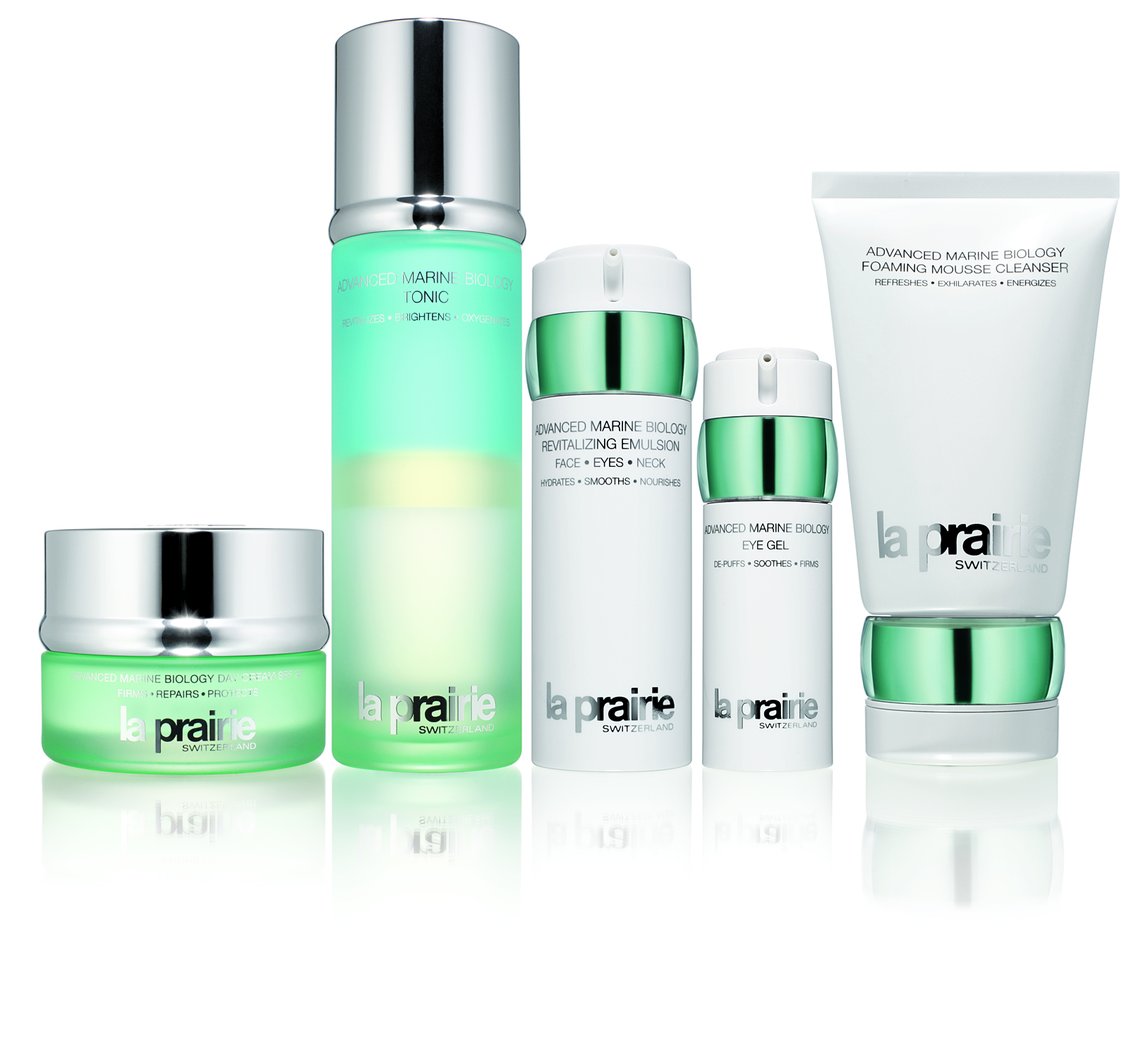 La Prairie just added three new products to their Advanced Marine Biology collection:
Advanced Marine Biology Revitalizing Emulsion (50 ml, $135 – it's for face, eyes, and neck), Advanced Marine Biology Eye Gel (15 ml, $105), and Advanced Marine Biology Foaming Mousse Cleanser (125 ml, $65). I got a little packet of each to try out, but by the time I ripped open the cream and cleanser only half ended up on my face with the other half of the sea world goodness landing on my counter or stuck in the bag so, I can't really attest to those (seriously those packets are the worst for testing out products!), but I can talk more about the eye gel.
I've been using the eye gel since I got a large sample about two weeks ago and it has a cooling/tinkling sensation when you dab it onto your skin, which is refreshing in the morning. It's a marine-colored blue/green, which I'm guessing ties into the algae, kelp and other sea plants used to formulate it. It doesn't leave me with an instant firming feel, but the gel has a light, non-sticky consistency that leaves my under-eye area smooth. I usually wake up with very puffy eyes and they seem to swell-down quicker since using this gel. I've also only been using it for two weeks so I imagine after a longer period one would start to see increased firmness and a decrease in fine lines. Among the key ingredients in the eye gel are oat kernel oil and a red algae (for firmness and smoothness), buckwheat wax and caffeine (to reduce puffiness), and green microalgae oligopeptide (to fight dark circles and spider veins).
Aside from the cooling sensation, my favorite thing about this eye gel might just be that the bottle it comes in has a lock! It's so rare for an eye gel to have a turn lock and it's useful not only for preventing small particles and other contaminants from coming into the product, but it makes it so much easier to pack when traveling! Miami here I come…with my eye gel:)