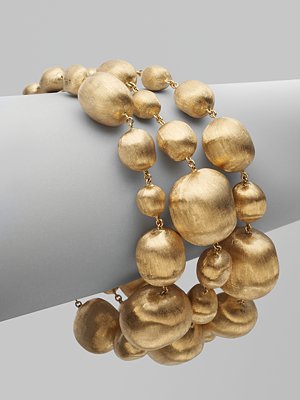 Refined and understated. Bold and high-impact. Glance over your jewel box and you'll see that most of your beads and baubles fall into one of those two categories, but I'm willing to bet, you won't find many that fit into both. That's what makes Marco Bicego's layered bracelet such an incredible piece.
Out of the exotic Africa collection, inspired by intense sub-Saharan wilderness, there's an ethnic influence to the shapes of the beads. Daring and irregular in form and size, Bicego revels in their imperfections, and so do I! These hefty 18-karat gold spheres are spaced out generously so each one can receive the attention it deserves. Classic and modern at once, three strands (fixed and closed with a bar clasp) really get the point across, whereas any less would fall short and any more would be pure excess. And what is the point? It's, of course, to marvel over this bracelet's earthy solid-gold beauty. Yes, solid-gold with a price to match – it's a bit of a hindrance, to say the least. I would be happy with a faux 18-karat version, as long as the hypnotizing shapes remained the same, but then again, there is nothing like genuine polished gold. At Saks Fifth Avenue for $9,580.
Pair with: Counter all that beaded volume with a minimal wedge. Bottega Veneta's python sandals have nothing more than a few straps to hold your foot in place, and a sense of exotic refinement to match your jewel. Bottega Veneta Python Wedge, $960.