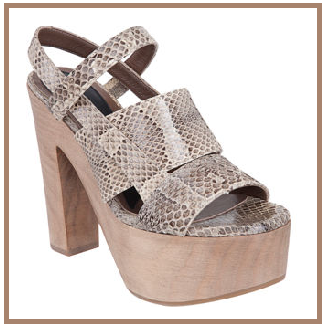 Meet my new flats! Marni, your chunky platforms have me doing excitement-induced cartwheels. This pitch is so mellow, it's just like wearing flats but you get monster height! Snake and wood and no achy feet: this is my dream shoe come true.
These snake-print leather sandals are to die for, just not when it comes to your feet. Their thick straps and wide bands hold your feet in place, no problem, and they flaunt maximum amount of snake (always a plus!).
I wore these smooth wooden-soled shoes to an all-day wedding and they proved as comfy as they come. The only problem is, the sling-back strap starts to rub you the wrong way after a whole day of wear, but guess what? I redesigned the sandal by pulling the strap over the back of the heel, so the rub is no longer an issue. Bonus: it actually gives the shoes a cool new look. I went bold by wearing them with a color-block dress – tricky as you well know – but natural snake is always reliable as the ultimate neutral. Next time, I'll be wearing them again with a LBD to spike up the wow factor. So many possibilities, so much comfort! I'm in love. Just don't tell my other shoes. At Barneys New York for $750.
Pair with: When I want to dress them down, I'll be wearing Marni's shoes with a perfect day bag. Derek Lam's Tatum hobo is a slouchy suede shoulder style that's neutral and comfortable, just like my mega-flats.
Derek Lam Suede Tatum Hobo, $1,790.