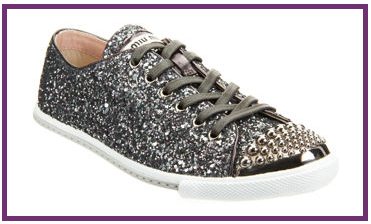 Miu Miu's glitter-and-suede Trompe L'Oeil peep-toe: Fashion Week's most-worn bootie, showcased by the likes of Alexa Chung (with a Rebecca Taylor frock) and Anna Dello Russo (in head-to-toe Miu Miu). Now that we've seen that sparkle coming and going, it's time for a great alternative.
Add some sport to the sassy heel's spice, with the sneaker version. I'm probably too old to wear these, but these are so fun they can't be ignored. Decked out in aluminum-colored glitter with metallic gunmetal accents, olive laces, and a studded silver cap-toe, they are the freshest and most spirited take on the Converse All-Star low-top I've ever seen. It's no easy feat for a sneaker to get hearts racing (okay, maybe that's an overstatement, but these do have my eyes widening with interest!) – Miu Miu proves why an athletic shoe should be playful, frivolous, and well, anything but athletic.
Receive 20% off your purchase of these sneakers at Barneys! Call Steve (469-221-4700) and tell him Shoe Snob sent you. At Barneys New York for $450.
Pair with: Silver-tone twinkle would do well with deep-teal denim. Rag & Bone's skinny jeans are enhanced with zippers at the front pockets and cuffs, for a little something extra for your off-day. On Net-a-Porter
for $240.