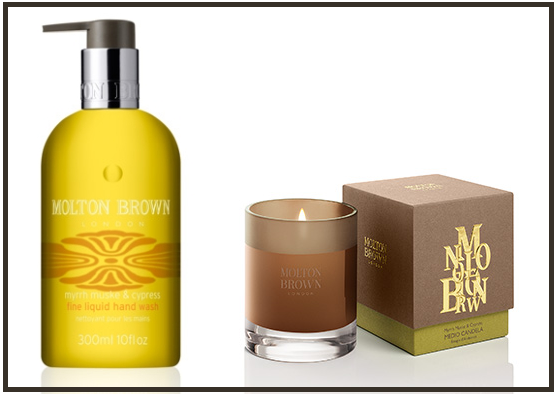 Most might have Halloween on the mind, but I am already preparing for my favorite holiday, Thanksgiving. It's time to prep my house for a big group of guests – the more the better! I am having someone come and decorate (I can't strike the right balance of festive but not cheesy, so I seek professional help), but I know it's the finishing touches that really make the place feel special. For me, it's easy: look to Molton Brown.
The way your house smells is just as important as the way your house looks, so I always keep loads of candles, fresh flowers and of course, nice hand soap for the guest bathroom on hand.
This year, I have a fabulous new scent to fill my house. I always want to get in on the holiday spirit, but I can't stand the Christmas spice smell of cinnamon and apple cider – gag! This Thanksgiving, I'll be grateful that Molton Brown released Myrrh Muske & Cypress, a festive blend with the warmth of myrrh and a December-esque evergreen smell that's not quite pine trees. Cypress smells like it's from much deeper in the forest – think the familiarity of pine, but richer and more exotic. Maybe it's the heady marijuana accord it's been infused with! Add to that muske, offering the scent an almost manly depth – meaning great for the entire house and not strictly a sweet floral bedroom and bath scent. Done! Flickering candles in the entryway and kitchen, hand soap in the powder room, and my guests will really feel the love.
Myrrh Muske and Cypress Fine Liquid Hand Wash At Molton Brown for $25.
Myrrh Muske and Cypress Medio Candela. At Molton Brown for $49.