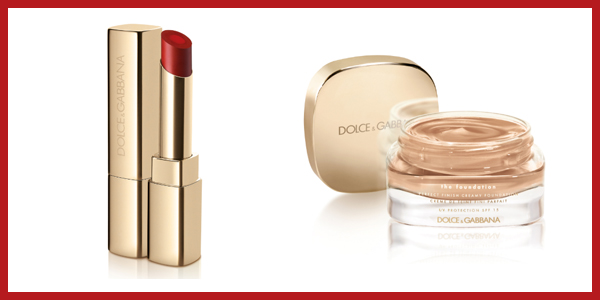 Liquid gold packaging connotes total luxury, but with these two fresh products, Dolce & Gabbana proves it's on the inside that counts. Would you expect anything less from the duo who embodies the ultra-feminine sensuality of classic bombshell beauties like Sophia Loren?
I'm excited to report that both the Perfect Finish Creamy foundation and Passion Duo Gloss Fusion lipstick live up to their expectation-raising names. Perfect Finish is seriously the creamiest foundation – it even looks like gourmet whipped cream – that gives the appearance of velvety-lush skin. In fourteen shades, it will be no problem finding your perfect match. A decadent product (each glass jar is filled delicately by hand), this will be my new go-to for date nights out and photo shoots!
Giving Chanel Rouge Coco Shine a run for its slick-shiny money, Passion Duo Gloss Fusion lipsticks give the richness of color you expect from a bullet with the brilliance and shine of gloss! This is a blend of textures that you can see: creamy color encircles a flash of gloss. An alluring array of colors, some classic, some quirky, means all your moods are covered.
Will Dolce & Gabbana's foundation and lipstick-gloss-hybrid bring out your inner siren? They certainly won't hurt in the fight for appeal!
Perfect Finish Creamy Foundation at Saks Fifth Avenue for $66.
Passion Duo Gloss Fusion Lipstick at Saks Fifth Avenue for $34.