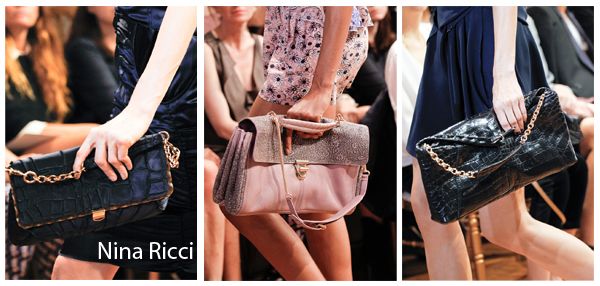 A sexy and utterly feminine collection at Nina Ricci. I attended the intimate show on Ave Foch the day I arrived and was immediately taken by the new bags. Ribbon and lace details gorgeously juxtaposed with exotic skins and satins that retained the Nina Ricci ladylike flavor while injecting a much needed modern exuberance.  The week is not over but I declare Nina Ricci bags most improved of Paris Fashion Week!  And I'll be ordering the pink lizard baby asap.
Alber Elbaz never fails to surprise me and the utra sleek bags he sent down the Lanvin runway the other day was no exception.  Gone were the bows, ribbons and chains, in its place– clean and structure.  Most notably the colorblocked shoulder bag.
I did not make it to Paris in time for Balenciaga and it looks like I missed a great show (literally, editors told me benches broke and everyone had to stand!).  Wild animal print shoes were the perfect balance for the subdued bags.  They were almost too subdued.  I know I am always harping on the need for timeless and simple bags but perhaps it's time to take chances again.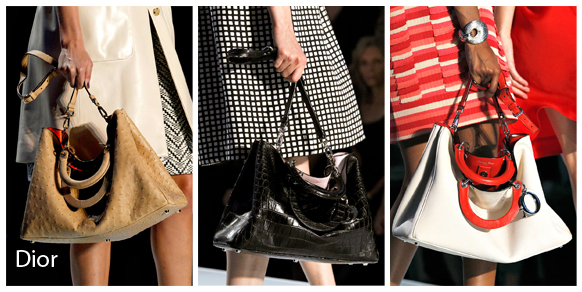 Dior played it safe with its familiar Miss Dior bags on the runway without its flamboyant leader at the helm.  The only exciting arm candy worthy of mentioning came in the form of softly structured hobos with double handles (above).  The color blocked red and white leather version was the show closer but alas lacked the necessary drama that Galliano usually delivers.