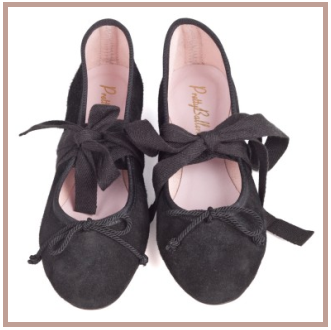 Unrealized dreams of twirling across the ballet stage? Still feeling the inspirational residue of Natalie Portman wearing haunting, Rodarte-designed costumes in Black Swan? Or are you just feeling your inner old-world romantic? Even if you've never had prima-ballerina fantasies, these very special shoes will have you channeling your flirty and feminine side, no small feat for a pair of flats. We all have a ballet flat or five in our shoe closets (from Repetto to Lanvin to Marc Jacobs, we've seen every incarnation), but here's a rendition so old-fashioned it is revolutionary. Real ballerina slippers with cotton ankle-tie ribbons!
Pretty Ballerinas, founded in 1918, still produce the same shape and style from that very year. When they call these the "original," they mean it. These flats are the real deal; you even break them in yourself as you wear them (like real toe shoes, they have no designated right or left). In suede, they are the slippers for fall. Just accessorize with a modern edge, like by adding a stack of thin bangles, and you'll be pirouetting through the day. At Ann Mashburn for $200.
Pair with: These dance flats might have you envisioning tutus, but you would never be that obvious. The current full skirt is leather and pleated. Acne's aptly named Romantic skirt, with a gathered-waist in dark khaki-olive brings edge to the sweetness. On Net-a-Porter
for $1,710.