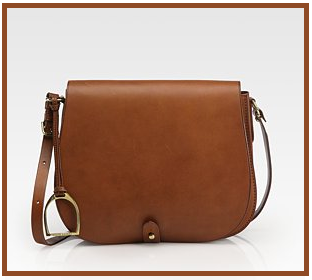 Others come close, but who else besides Ralph Lauren, the king of quintessential American style, would have the perfect saddle bag? I live in horse country so this is right up my trail (tee hee), but city girls will rock this out even better. Theme-inspired gear looks best when it's taken out of its element and granted a new context. So don't get too literal or the element of chic will be lost (in the same way denim on denim looks better in New York City than it does in Kansas).
But even if I'm not hitting the Manhattan hot spots, I can appreciate the flawlessness of this urban cowgirl-worthy bag. The best detail of this smooth Italian leather satchel is the stirrup hardware – which is removable if you think it's too kitsch, but why would you want to? It's beyond cute. And it's not over the top; the simple tab closure balances this between home on the range and city slicker, especially when you choose to wear it crossbody (the strap can adjust from messenger length to close shoulder length). One nice big pocket inside for your phone is essential these days, but not taken for granted. What makes it officially stunning is the divine chestnut leather, just begging to be broken in. I almost wish it came worn in because it's the kind of leather that will only get better and cooler with age and imperfections (just like us!). At Saks Fifth Avenue for $1,150.
Pair with: Nothing says far away from the farm like a touch of skull jewelry. Ileana Makri's 18-karat rose gold and diamond ring is delicate in size, so your accessories will juxtapose without too much shock. On Net-a-Porter
for $1,150.