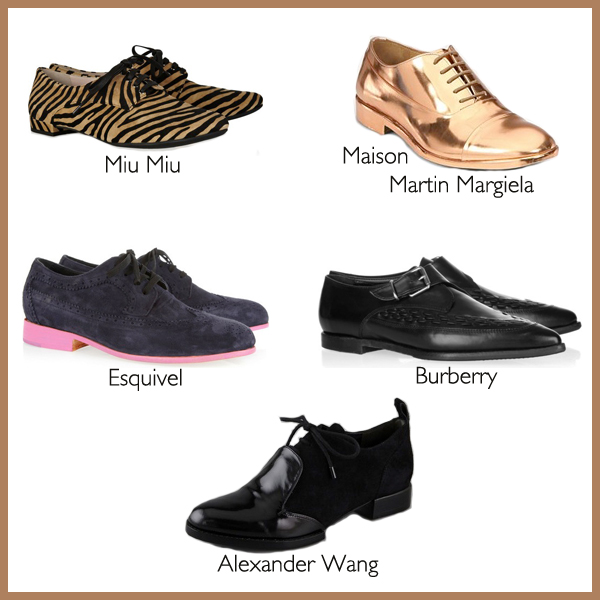 With the menswear trend in full dapper swing, a whole slew of brogues have tap-danced onto the scene and closer to our wardrobes (a few sparkly pairs made appearances last year). Blame it on Fashion Month withdrawal, but I'm in a major flats phase at the moment (I've to decided to embrace and enjoy while it lasts cause you know it can't be too long for this heel-lover!). A brogue is formally defined as "a strong oxford shoe, usually with ornamental perforations and wing tips," but the modern renditions are reinventing the connotation.
Animal prints, leather weaves, and surprising blocks of color have revived the oxford into something funky with endless possibilities. Wear them with flirty little skirts and cropped pants, and revel in the freedom of flats. That is, until you get nostalgic for your heels…although these are so cute it might be awhile!
1) Miu Miu Zebra-Print Suede Brogues: All the cuteness of a saddle shoe and the sass of zebra print, set in a much more interesting leopard-print palette. These are just the thing for scampering around to casual brunches followed by errands. On Net-a-Porter
for $490.
2) Esquivel Lace-Up Suede Brogues: Esquivel delivers a classic brogue, wing-tipped perforation and all, in these indigo suede shoes. But – surprise! – a Bubblicious-pink sole femmes them up with a great big wink. On Net-a-Porter
for $690.
3) Alexander Wang Jules Suede Tuxedo Oxfords: Always expect the unexpected from Mr. Wang. His take on flats is always exciting, and these two-textured oxfords are no exception. A slick leather toe sets them apart from the rest and gives them a dressy vibe. Toss them on with a sequin sheath for a boy-meets-girl twist. On ShopBop
for $475.
4) Burberry Leather Monk-Strap Shoes: Part creeper, part brogue, these flats are defined by a seriously pointy toe. The buckle offers a little bit of punk, while the delicate weaving of leather gives them a sense of semi-delicate preppiness. On Net-a-Porter
for $475.
5) Maison Martin Margiela Lace-Up Metallic Leather Oxfords: Who knew brogues were born to shine? Margiela proves it with these solid-gold lace-ups. Slide into them with an all-black or brightly color-blocked ensemble and own the day or night. At Saks Fifth Avenue for $795.