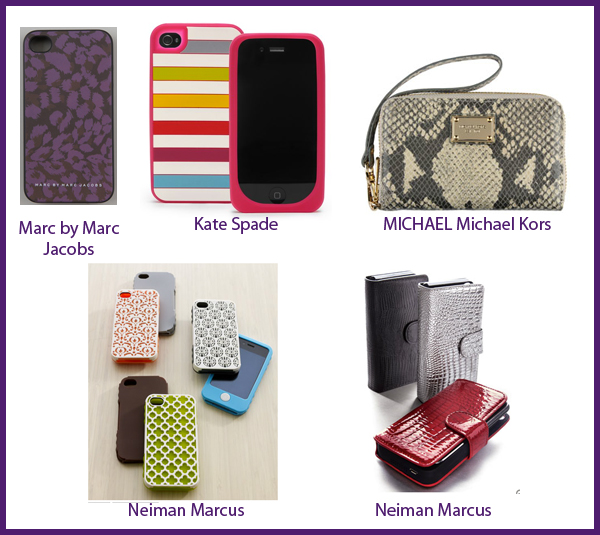 In honor of Steve Jobs, who has enlightened me and changed my life by making it more productive.  He has touched our lives in a very personal way – my seventy-five-year old dad, who is on the other side of the world, is able to easily use his iPad for Facetime with his grandchildren (whereas Skype is way too complicated for him). You know as well as I do, anyone with a MacBook, iPhone, or iPad (I have all three – doesn't everyone?) cannot imagine living without any of them. Once you've experienced how efficient life can be, why would you ever go back to the Dark Ages?  Here are my top picks of the cases to protect our most precious, life-improving gadgets.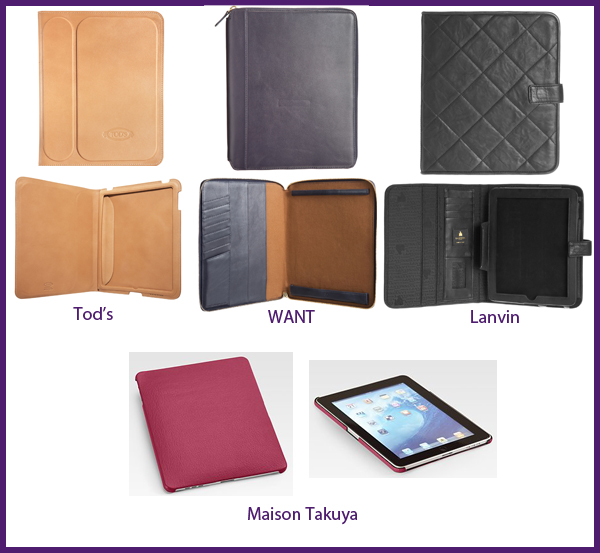 We now share and organize our lives in ways we were never able to, which is especially amazing for a scatterbrain like myself. (And I will speak on behalf of Tina as well: where would our lives be? We would certainly not be able to be bloggers without Steve Jobs, and my kids would probably miss every piano class and Girl Scouts meeting.) So here is our little tribute to Steve – we dress up our iPads and iPhones with the same kind of spirit we dress up our babies: out of love for them.
Marc by Marc Jacobs Jungle Silk 4G iPhone Cover: A touch wild-child, but deep and dark enough not to overwhelm, this violet leopard print silicone case shows off your style without making a fuss. On ShopBop
for $38.
Kate Spade iPhone Cover: A little color wheel, a little Fruit Stripe gum, a lot just plain cute! This is a perky, upbeat case that will pick up a variety of hues in your wardrobe. At Kate Spade for $35.
MICHAEL Michael Kors iPhone Zip Wallet: Practical as can be, holds cards, cash and your iPhone.  And who doesn't love snake-print? Natural python-embossed leather does the job of snakeskin. And by the way, this zippered case is wine-resistant. I tested it out myself! At Michael Kors for $89.95.
Silicone iPhone 4 Case: Play mix and match with these fun and chic cases designed for layering. You get two solid colors and one white cutout style to slip over your choice of solid, letting you change it up every so often to keep from getting bored.
At Neiman Marcus for $45.
4G iPhone Case and Charger: I think I know what I'm getting Tina for Christmas! This is for the 24/7 phone-user who can't get through the day on just one charge. This suave crocodile-embossed case comes with a rechargeable lithium battery that will give a full charge as your phone needs it, so you start the day at 200%.
At Neiman Marcus for $100.
Tod's iPad Case: As gorgeous as a minimal tote, as streamlined as the iPad itself, this vachetta vegetable-tanned calfskin case in buttery nude is a sophisticated suit for your smart machine. So very Tod's.
At Barneys New York for $545.
WANT Les Essentiels De La Vie Narita 2 iPad Case: Classic and functional, the vegetable-tanned and Turkish cotton-lined Narita was designed with thought you'll appreciate. It has interior card and paper slots and an anti-slip stand for viewing ease. At Barneys New York for $295.
Lanvin Amalia iPad Case: Leave it to Lanvin to produce the case for the ultimate girlie-girl. Plush quilted leather, jacquard fabric on the interior, and an air of delicacy make for a luxurious pick. Just make sure your iPad doesn't outdo you in the wardrobe department! At Barneys New York for $927.
Maison Takuya Hard Leather Case for iPad: This is for the no-nonsense minimalist who's a bit of a neat freak. Maison Takuya's French goatskin leather carrying case doesn't do anything but protect the back. If you like to keep your iPad clean, this is beautiful and sleek. At Saks Fifth Avenue for $250.