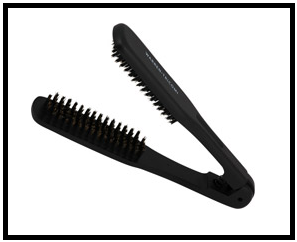 I love my stylist; he does such a good job blowing out my hair. I always try to learn his tricks when he does it, but the advantage I'll never have? The leverage he gets from standing over me. Getting the right tension with the brush is key, but it's not easy to do yourself.
Or so I thought I could never have leverage. Warren-Tricomi's Tension brush allows you, yes, the proper tension while doing your own hair – you need it so you can blow-dry it while the cuticles are all facing one direction. With this nifty brush, two sides clamp together, so you get that perfectly smooth texture your stylist achieves. If you're all about straightening your hair, there is no better tool out there (be gone with irons!), as a regular brush will just leave you with flyaways.
I have straight hair to begin with and even for me, attaining a perfectly straight blowout is a challenge: a regular brush lacks the right grip and the ends inevitably get blown all over the place. With the Tension brush, you can even give your ends some flip by turning it. A word of warning: do not use this on dry hair or you will get crazy static. And you do need to grab it tight, so it is a bit of a workout. But no pain, no gain, right? At CVS for $15.