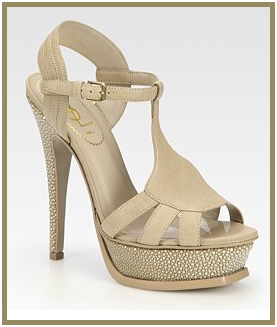 Somehow stingray feels even more decadent when it's injected merely into the heel and platform. Coating only the base of the shoe is the perfect way to incorporate the mysterious exotic – this is maximum impact.
That's what Yves Saint Laurent is all about: knock 'em dead heels that go the distance when it comes to both comfort and versatility. This sandal is a subtle variation on their famously wearable Tribute shoe. The only difference is this fellow T-strap style lacks the looping straps of the Tribute and has a smoother and more minimal look. That's just what you need to juxtapose against bumpy, scene-stealing stingray.
Besides, a T-strap design makes for an inherently sensible shoe. (Oh, yes. I just called these sensible shoes!) Happily, with all that fabulousness going on, this sandal is clearly anything but frumpy. You can – and you will – want to wear this everyday. Start now and let this winter white transition into spring. At Saks Fifth Avenue for $995.
Pair with: Take advantage of the simplicity of a cream-colored shoe and whip out a wild, painterly print. Marni brings an artistic aesthetic to their belted, silk dress. At Barneys New York for $1,765.